Reward Your Workforce For Free with O2 Open
O2 Open, one of the many benefits of being a MID Comms business customer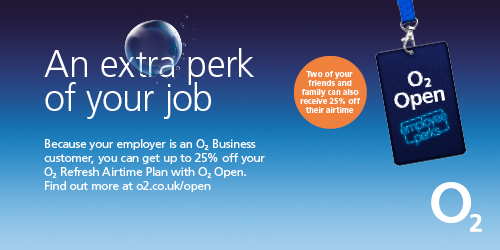 At MID Communications we can help you reward your teams and workforce with O2 Open if you choose O2 to support you and business.
As an O2 franchise this is one of many perks we offer you and your business as we truly want to add lots of great value to you and your business, I mean after all we are more than mobile.
For many years we have offered our business customers O2 Open, a simple yet effective way for companies to offer their employees a number of valuable discounts and benefits, including:
Discounted tariffs: Employees of companies registered for O2 Open can get up to 25% off their Airtime Plan on qualifying phone contracts, and also on the Airtime Plan of a qualifying tablet or mobile broadband contract.
Free wifi: Employees can connect to more than 15 000 O2 Wifi hotspots across the UK automatically.
Priority Offers: Your employees can access all the same Priority Offers as our customers, offers that they won't find elsewhere, including food and drink, shopping, travel, health and beauty, as well as enviable access to movies, electronic games and sports.
Priority Tickets: Access to Priority Tickets 48hrs in advance including shows at The O2 and O2 Academy venues.
Discounts on Accessories: As well as discounted airtime tariffs, members get a 20% discount on accessories in store.
Help from our Gurus: Free help and advice from our Gurus for your employees, whether it's online, in store or over the phone. From backing up data to taking brilliant photographs, we are here to help.
Supporting Keeping children safe online: We know it's hard for working parents to keep track of what their children are doing. That's why we have teamed up with the NSPCC to deliver workshops for employees with children to make sure that they stay safe online.
O2 Recycle: We've already recycled more than 2 million devices. With O2 Open your employees can sell their old one and put the money towards a new one.
We can provide posters and leaflets to help promote the perks and benefits open to your employees, and for larger organisations can even assist with on-site promotional activity with our O2 Open VIP team.
We make sure it's easy for you and engaging for your people, giving them the help they need with their devices, our business & Open team take care of everything for you, all you need to do is let us know.
We make it easy by giving you and your workforce a dedicated VIP Hotline to call, to get support, free advice, make a purchase, or ask about any of the above services mentioned, or even a chat.
Are you offering the perks of O2 Open to your employees?
Many of the UK's largest and best-known companies are already members, and their people are enjoying the benefits of O2 Open membership. So why not join them?